At EVE Park, we want you to live in a park, not a parking lot.
Inspired by the prairie meadows that populated this part of Ontario before European settlement, a diverse plant community will be created through the mixture of meadow seed mix with prairie grasses, shrubs and trees carefully planted throughout. The result will be an ecologically rich environment for birds and insects, while providing a calming and restorative landscape for residents.
The site landscape will help to reduce overall maintenance using slow-growing drought resistant lawn. This will allow for greater water infiltration, reduced CO2 emissions from lawn mowers, and the creation of habitat for birds and insects. Furthermore, the landscape design will help create a comfortable micro-climate and a uniquely beautiful landscape for future residents to enjoy throughout the seasons.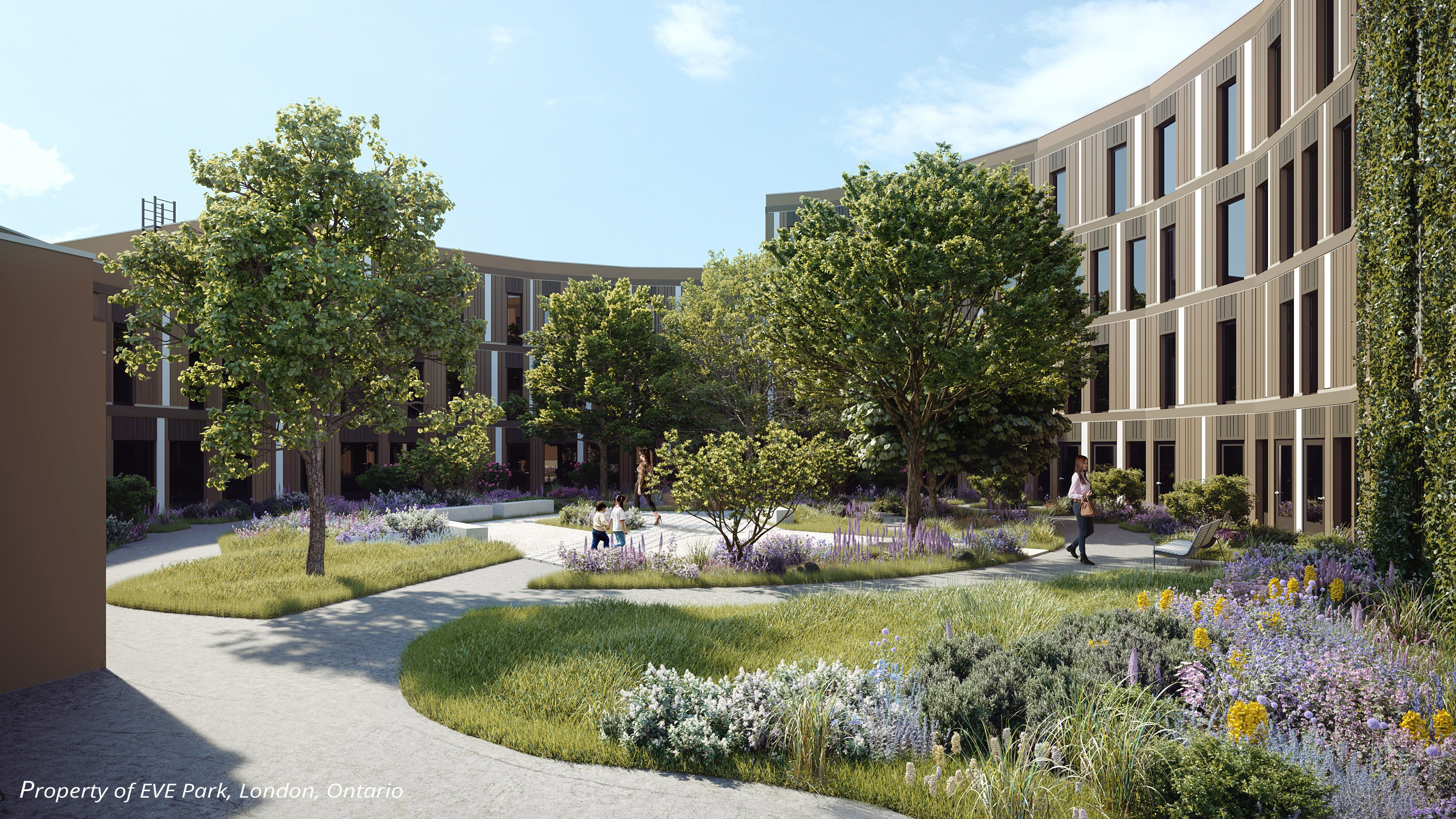 Courtyards and Private Spaces
At the centre of each condominium cluster is a generously planted courtyard. The courtyards will provide a small-scale social outlet, where there will be many opportunities to gather with friends, family, and neighbours. The planting design in each courtyard divides the space up to create various spaces for meeting and small areas for children to explore. The centre of each courtyard is divided into more intimate seating areas, with a variety of seating options to accommodate small groups. They will also provide front door access to the units and are community social spaces.
Each condominium unit's entrance is designed to be private but welcoming. Subtle landscape lighting will guide residents to their front door, providing a safe and pleasant nighttime experience too. The ground floor units have a patio at the rear entrance with hardscape and a large planting bed that ties in the courtyard planting palette into each entrance. A private garden area is located here as well, allowing residents to personalize their patio area.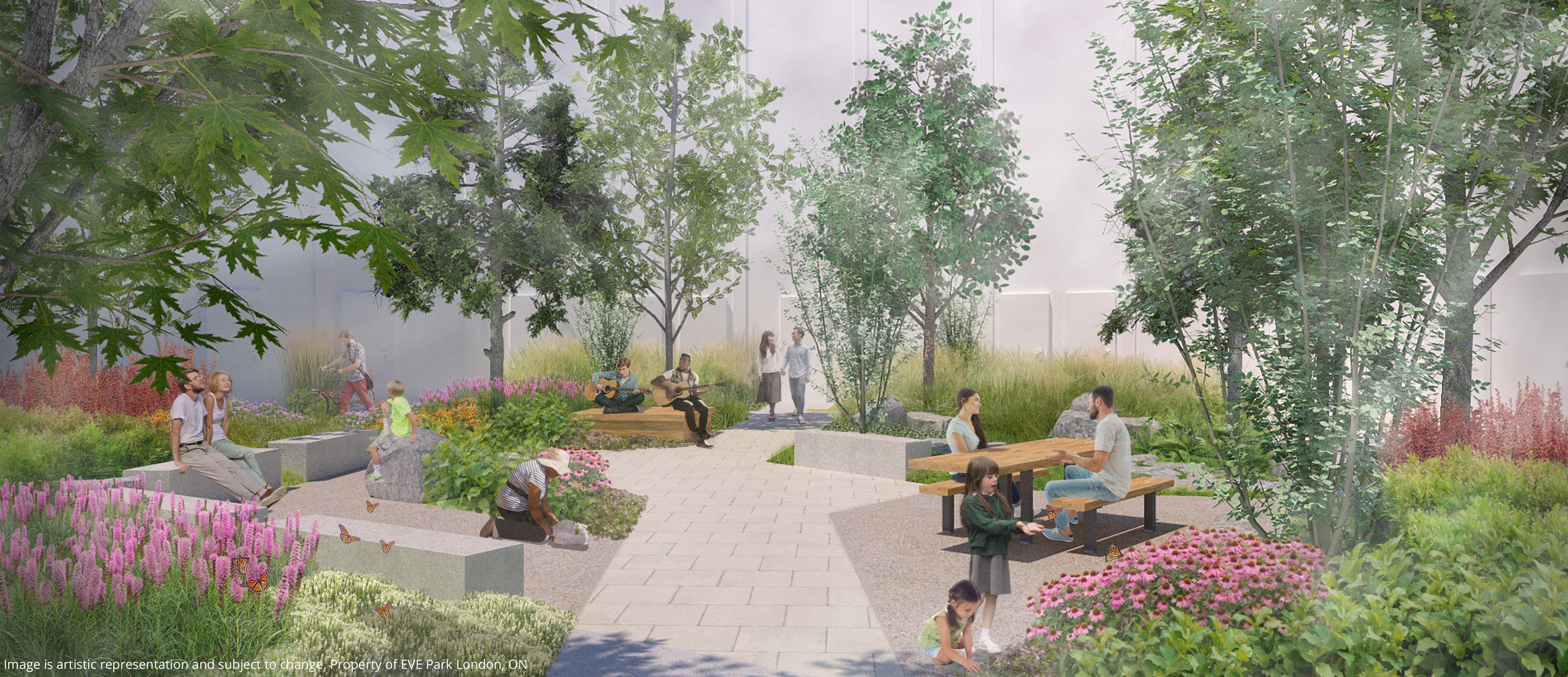 The Meadow
Outside the courtyards, the landscape is designed as a meadow that includes carefully selected trees and shrubs. This meadow provides a naturalistic landscape and helps to reinforce the ethos of 'Living in a Park,Not a Parking Lot'. The meadow recalls the tall-grass prairie fields which were often found in Southern Ontario prior to European settlement. Its perennial plants provide habitat and food for many beneficial insects and birds, and will provide seasonal interest throughout the year as it evolves with the seasons.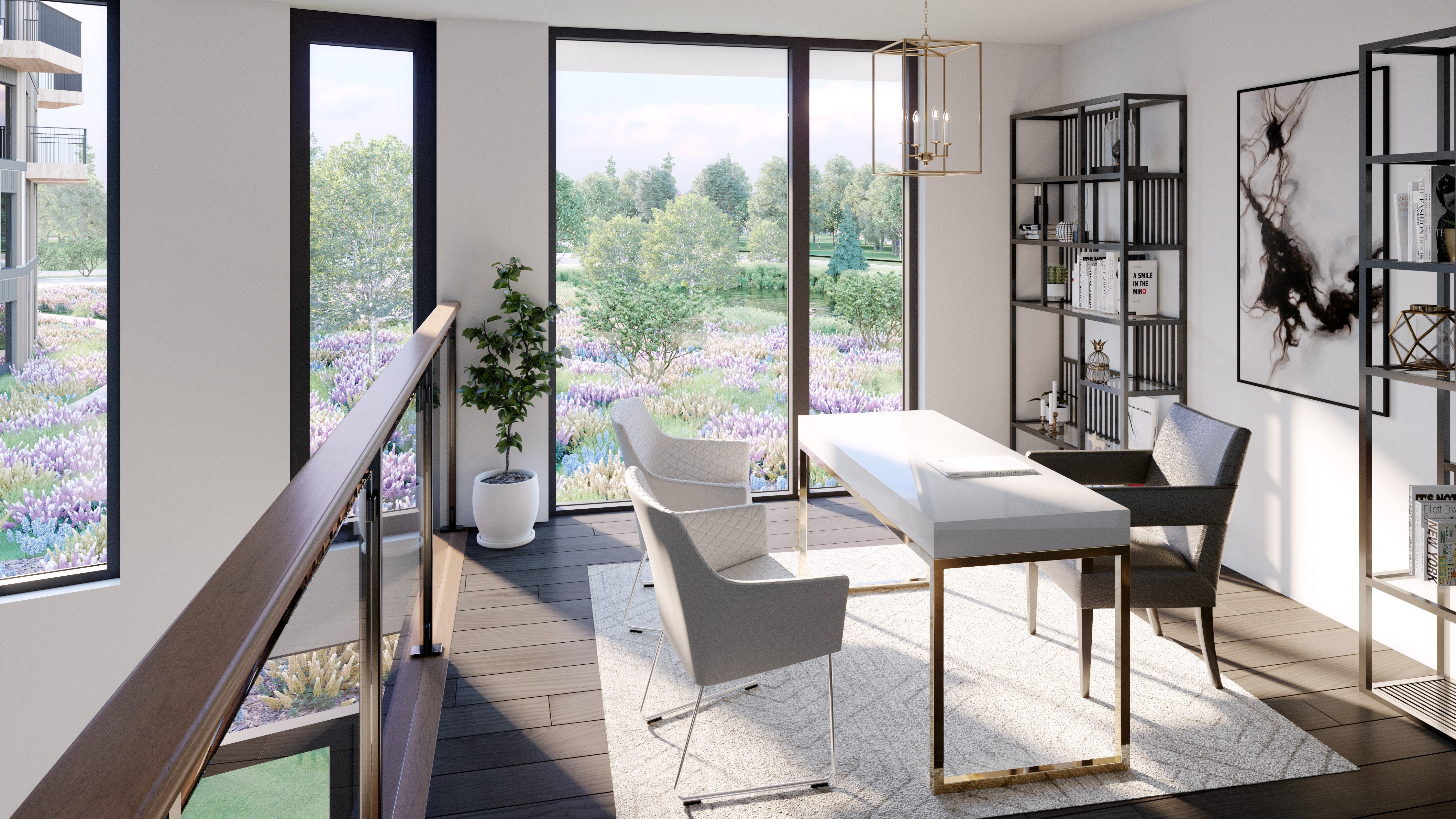 Driveways and Walkways
The driveways and walkways at EVE Park will be cohesive with adjacent vegetation. Driveway paving edges will be designed so that plant material grows along and over these edges, blurring the line between hardscape and softscape. The driveways will allow for water infiltration, while providing texture and uniqueness in keeping with the overall ethos of the project. The materiality of each walkway will hint at your location within EVE Park. Crushed limestone paths will carry residents through the meadows and across the site, while the more refined look of poured concrete will guide residents to their condominium unit. Finally, stepping stones will offer a more playful meander through meadow plantings at certain points around EVE Park.
The Plants
One of the more interesting parts of the landscaping is the beautiful and diverse array of plants at EVE Park. The site's landscape design includes the provision of edible plants at certain strategic points. There will be a small apple orchard at the west end of EVE Park and berry plants throughout for future residents to pick and enjoy when they are in season.
The site will have perennials including virginia mountain-mint, and wild strawberry, meadow seed mix including bergamot, purple coneflower, and spiderwort. Additionally, EVE Park will have a gorgeous mix of trees including black gum trees, eastern redbuds, and Japanese flowering cherry trees.
Want to learn more about the plants chosen for the "Organized Wild' landscaping at EVE Park?
Live in a park, not a parking lot
EVE Park takes a holistic approach to sustainable, healthy living. When you look outside the expansive windows of your EVE Park home to the beautiful abundant meadows and parks; the cityscape melts away and peace and serenity take over. Your townhome blends the need for nature while still being just a short walk from all the amenities and services the Riverbend and West 5 areas of West London have to offer. Don't settle for a condo in a concrete jungle - EVE Park is where you can live in a park, instead of a parking lot.
---
The EVE Park 'Organized Wild' landscaping plan is integral to the vision we have created for our residents. This unparalleled natural experience would not be possible without the guidance from our team at Shift Landscape Architecture.
In this short video, Shift speaks more about the benefits of this type of planting, how it will effect the residents of EVE Park and how it contributes to our goal of creating more sustainable and future-conscious housing.
---
Want a virtual tour of EVE Park London?